Netzwerk Welcome Weimar is an association of various programs that create meeting spaces for refugees and (international) students in Weimar. The offers of the network and the various programs are free and open to all!.
Wortschatz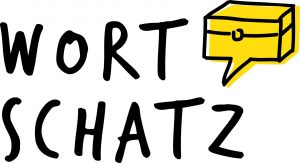 The Sprachwerkstatt Wortschatz is a dynamic, low-threshold offer to improve one's own language together and to learn from and with each other. In small groups, volunteer students support refugees and international students and can try out alternatives to common teaching methods and integrate them into the interactive courses.
The courses are open to all and are intended to create meeting spaces as a supplement to other German courses. In addition, refugee students are supported in learning workshops at two Weimar schools. Registration takes place at the beginning of each semester. Childcare is available for all courses upon request.
Follow us on instagram: @welcome-weimar
or facebook: https://www.facebook.com/welcomeweimar
Or send us an email: wortschatz@welcome-weimar.com
Essen für Alle

At Essen für Alle, we cook and eat together every two weeks at M18. Everyone is welcome to suggest recipes, join in the cooking and come along for the meal. We communicate the dates by mail, as well as on our social media channels.
Refugee Buddy Program

The Refugee Buddy Program invites you to joint excursions as well as creative and cultural events. The aim is to create an open and relaxed atmosphere that makes it easy to talk to each other and get to know each other.
info@welcome-weimar.com
Political education work
Our network is committed to political education (e.g. workshops) and actions on the topics of discrimination, racism, flight and asylum. Refugees and all students should be given active access to urban life. The university and the city should take their socio-political responsibility.
STAY TUNED. instagram: @welcome_weimar